The Road To Canada Is Paved With A Conti Heirloom!
Having enjoyed his Conti Entrada archtop for the past year and a half, Tony considered acquiring a second Conti Guitar, and he had his eye on our top of the line Heirloom model, featuring solid spruce top with solid maple back and sides. During a recent 
one-on-one video session with Robert
, Tony (a resident of Las Vegas) learned that we were now down to our last Heirloom in stock, along with the likely possibility of no new inventory for at least 6 months. Without hesitation, he asked if we could have that last Heirloom ready for him to pick up, on an upcoming trip to his second home in Canada.
As indicated by the photo, Tony made a pit stop in East Idaho to take delivery of his gorgeous Ruby Red Heirloom featuring the exquisite gold finger tailpiece – thus becoming a member of the
"Two Conti" Owners Club
. Tony also left his Port Wine
Entrada
in our care, as our super talented technician will complete a factory upgrade on that guitar adding a second pickup.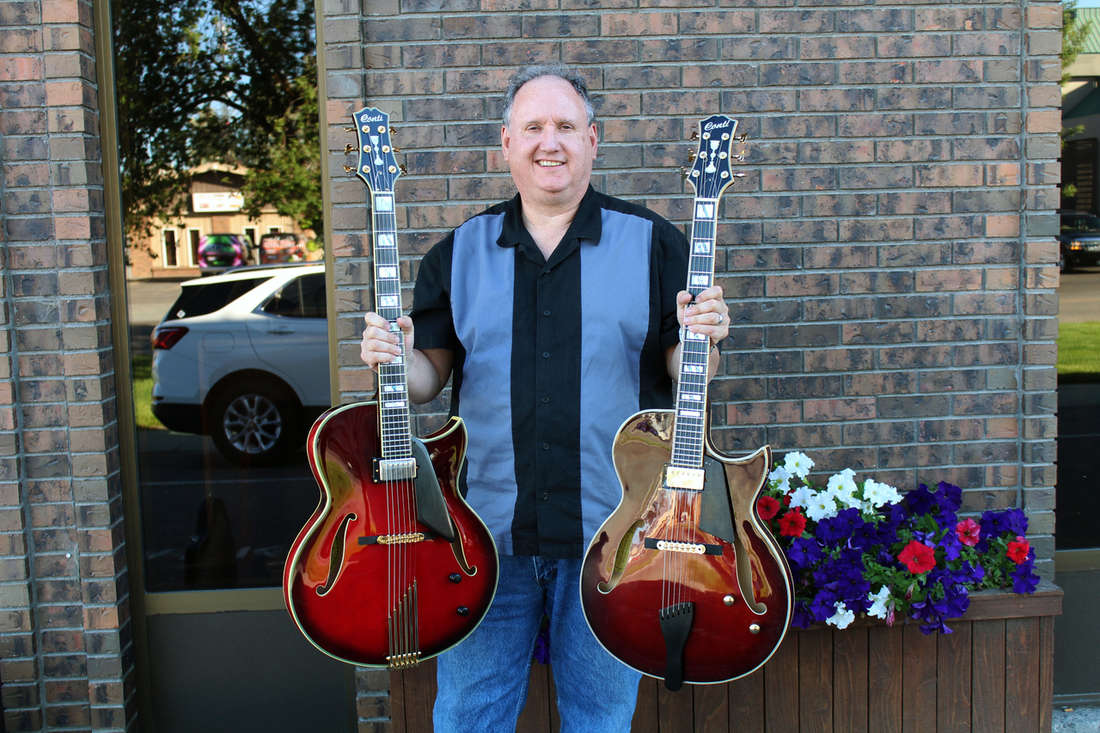 "I stopped off in Idaho Falls and picked up my new Heirloom guitar direct from Robert Conti.  Anyone who has looked at the website knows that the guitars are aesthetically pleasing but I have never purchased a guitar because it is "pretty."
What means more to me is playability.  Because Robert is a master guitarist, his guitars must meet the demands of a master player and that is the greatest benefit of getting one of his guitars.
As you play you do not want a guitar fighting you.  If you sound bad playing one of his guitars, trust me, it isn't the guitar.
This is my second Conti Guitar, I purchased my Entrada last year and have used it professionally on gigs and it never failed me nor failed to get compliments on look and sound.  I wanted the Heirloom to get a solid spruce archtop with 24 frets."
"Loving the new ax haven't put it down! It arrived in perfect shape and plays like a dream. The sound is amazing. Nothing better than a guitar designed by a player. The photo of me in action with the Entrada was taken at the Italian American Club in Las Vegas. 
The guitar played like butter and people loved the sound of the ax. One person said it played itself! On keys is Joey Melotti (Barry Manilow's MD), Blaise Sison (Family Stone MD) on bass, and Jimmy Racey on Drums. Irina Nero is singing."
Tony Pereira – Las Vegas, Nevada