Watch Robert Conti Put Her To The Test
Compare The Specs - Do The Math
| | Conti Entrada | Leading Brand 1 | Leading Brand 2 | Leading Brand 3 |
| --- | --- | --- | --- | --- |
| Elegant Headstock Brand/Logo | ✔️ | Brand Only | ✔️ | Brand Only |
| Quality Sealed Gear Tuners | ✔️ | ✔️ | ✔️ | ✔️ |
| Ebony Fretboard | ✔️ | ✔️ | ✔️ | ✔️ |
| MOP With Abalone Inlays | ✔️ | Dots Only | ✔️ | ❌ |
| 24 Frets - Easy Hi Register Access | ✔️ | ❌ | ❌ | ❌ |
| Maple Neck | ✔️ | Mahogany | Mahogany | ✔️ |
| Neck Binding | ✔️ | ✔️ | ✔️ | ✔️ |
| Laminated Maple Top | ✔️ | ✔️ | ✔️ | ✔️ |
| Laminated Maple Sides/Back | ✔️ | ✔️ | ✔️ | ✔️ |
| Quality Humbucker Pickup(s) | ✔️ | ✔️ | ✔️ | ✔️ |
| Quality TOM Bridge/Ebony Base | ✔️ | ✔️ | ✔️ | Ebony Only |
| Shallow Florentine Cutaway | ✔️ | ✔️ | ❌ | ✔️ |
| Body Binding | ✔️ | ✔️ | ✔️ | ✔️ |
| F-Hole Binding | ✔️ | ❌ | ✔️ | ✔️ |
| Ebony Pickguard | ✔️ | ✔️ | ❌ | ✔️ |
| Gold Finger Or Ebony Tailpiece | ✔️ | Ebony Only | ❌ | Ebony Only |
| Output Jack Plate | ✔️ | ❌ | ❌ | ? |
| Logically Placed Output Jack | ✔️ | ❌ | ❌ | ❌ |
| Durable Polyurethane Finish | ✔️ | Nitrocellulose | ✔️ | Nitrocellulose |
| Gig Bag | ✔️ | ❌ | ❌ | ❌ |
| Hard Shell Case | Optional Upgrade | ✔️ | ✔️ | ✔️ |
| Full Setup & Final Inspections | ✔️ | ✔️ | ❌ | ✔️ |
| Personalized Pre-Ship Intro Video | ✔️ | ❌ | ❌ | ❌ |
| Lead Time | 3-5 Days | 5 Days | ❌ | 10-12 Months |
| Deposit Required? | No | 500 | No | No |
| Add'l Fee For Box, Packing, Labor? | No | 30 | No | No |
| FedEx Ground Shipping (USA) | $79.00 | $85.00 | $0.00 | $0.00 |
| | | | | |
| Currently Advertised Pricing | $1,569.00 | $6,500.00 | $3,600.00 | $6,600.00 |
Please Note:
If the Entrada was offered through the traditional distributor/dealer network of Big Box stores, you could expect to pay 2 to 3 times our direct pricing. By offering our instruments exclusively through our website, there are no middlemen and you can obtain a great archtop at an unbeatable price.
Tired of hearing jazz improv on your rock guitar?
Mid level laminate archtops tend to be stripped of features that matter to players. We believe you won't find another instrument with the feature set of the Entrada at such an affordable price. Additionally, your new Entrada is fully inspected and set up to Robert's specifications prior to shipping. As part of our first class service, you will receive a video wherein Robert Conti performs with, and introduces you to your new guitar – a truly personalized experience you'll never forget.
A well dressed headstock with Conti name and logo inlaid with Mother of Pearl
Imperial Style sealed gear tuners feature a 19:1 gear ratio, allowing a finer degree of control
24 Fret Ebony Fingerboard with Mother of Pearl and genuine Abalone Inlay.
The laminate Maple top, back & sides produces produce high quality tone and resonance.
Humbucker manufactured by Kent Armstrong – a brand name synonymous with quality and exacting specifications.
Your choice – Compensated Ebony on floating Ebony base or Gotoh Tune-o-Matic on Ebony Floating base.
Your choice – enjoy a traditional solid Ebony tailpiece, or choose the gorgeous and sophisticated Gold Finger.
Since 2000 on the internet, the Conti name on the head stock is your assurance of quality.
"The Entrada is a versatile instrument but obviously designed by a jazz player who has made a career playing other brands of high-quality archtops and finally decided to combine all of the features of importance to him in his own house brand." (Click Vince's photo to read his full review for Jazz Guitar Today)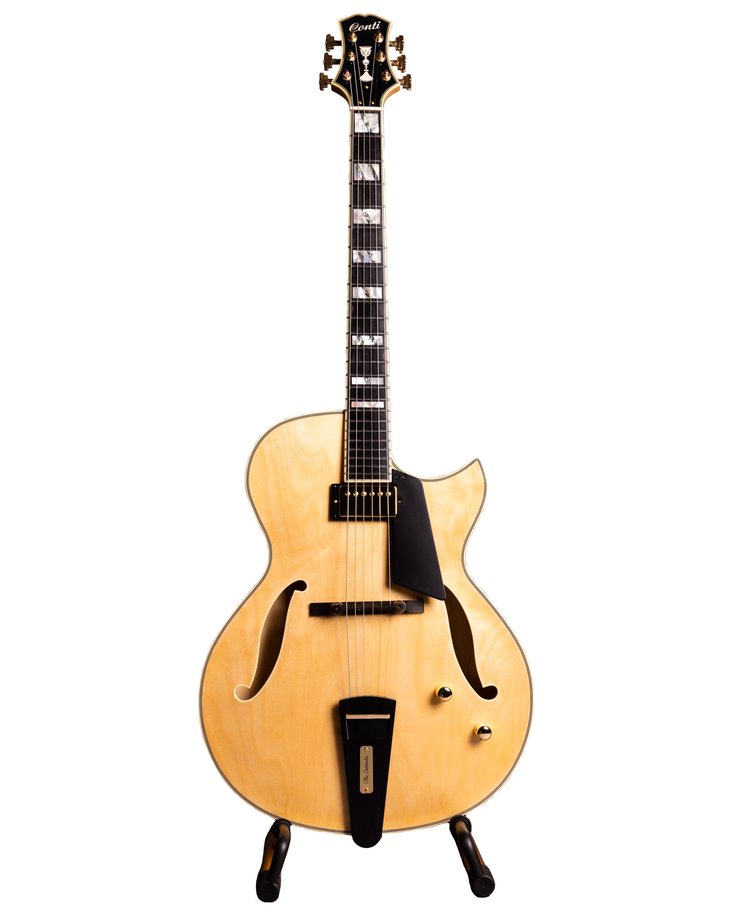 Select Gotoh T.O.M. or Compensated Ebony Bridge
Select Gold Finger or Ebony Tailpiece
Upgrade To Our Midnight Package
Want to really change things up? Dress up your new Entrada in all black hardware with our Midnight Package. With this classy upgrade, you will receive black: Tuning Keys, Pickup Covers, Vol/Tone Controls, your choice of Ebony or Black Finger Tailpiece, and Ebony or Black Gotoh Bridge. A unique look guaranteed to turn heads!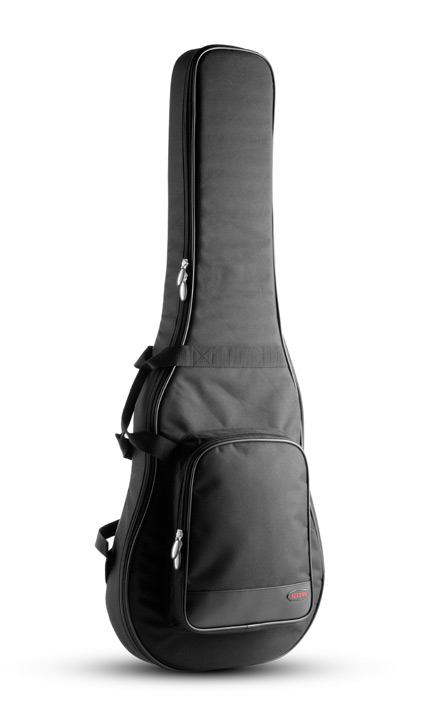 An $86 value, this gig bag offers the perfect blend of lightweight utility and professional-level protection.
Interior Dimensions:  42.75″ Long, Upper Bout: 12″, Lower Bout: 16.25″, Depth: 3.5″
Exterior Dimensions: 45.5 x 17.75 x 6″
1″ foam core (25mm HardCell high-density closed-cell foam coupled w/ 4mm open-cell sponge foam)
600D water-resistant polyester exterior w/ PVC backing
Smooth 70D pill-resistant poly interior w/ protective hardware abrasion guards
Adjustable padded backpack-style straps
Reinforced carry handles, heavy-duty zippers and pulls
Ample zippered front pocket
Weight: 3.3 lbs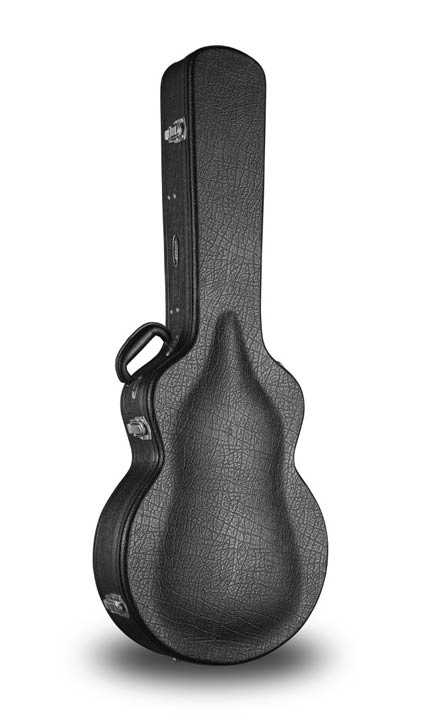 This Stage Three ES-335 Guitar Case will allow you to house and travel anywhere with your precious instrument worry-free and with just a bit of the opulence she deserves.
Interior Dimensions: Overall Length: 43.5″ (1105mm);  Upper Bout: 11.5″ (292mm);  Waist: 10.5″ (267mm);  Body Length: 18.75″ (476mm);  Lower Bout: 16″ (406mm);  Depth: 4″ (102mm)
Reinforced 5ply shell
Vinyl exterior with fully bound seams
Soft, plush interior over a protective layer of protective foam padding
Comfortable handle – chromed metal hinges, latches and hardware
Internal pick box with neck-suppor padding
External Dim: 46 x 18.5 x 6in. (1168 x 216 x 152mm)
Approximate Weight: 9.9 lbs