Watch Robert Conti Put This Archtop To The Test
Tired of practicing jazz improv on your rock guitar?
Mid level laminate archtops tend to be stripped of features that matter to players. We believe you won't find another instrument with the feature set of the Entrada at such an affordable price. Additionally, your new Entrada is fully inspected and set up to Robert's specifications prior to shipping. As part of our first class service, you will receive a video wherein Robert Conti performs with, and introduces you to your new guitar – a truly personalized experience you'll never forget.
A well dressed headstock with Conti name and logo inlaid with Mother of Pearl
Imperial Style sealed gear tuners feature a 19:1 gear ratio, allowing a finer degree of control
24 Fret Ebony Fingerboard with Mother of Pearl and genuine Abalone Inlay.
The laminate Maple top, back & sides produces produce high quality tone and resonance.
Humbucker manufactured by Kent Armstrong – a brand name synonymous with quality and exacting specifications.
Your choice – Compensated Ebony on floating Ebony base or Gotoh Tune-o-Matic on Ebony Floating base.
Your choice – enjoy a traditional solid Ebony tailpiece, or choose the gorgeous and sophisticated Gold Finger.
Since 2000 on the internet, the Conti name on the head stock is your assurance of quality.
"If anything, the price is entry level - the rest is pure professional. The sound and playability rivals that of another guitar I own which cost $6,000!"
"The playability and rich tone far exceeded my expectations. I have no idea how Mr. Conti can produce a guitar of this quality at such a reasonable price"
"Just thought I would let you know that I love my new guitar. It plays perfectly right out of the box. I have been getting acquainted with her for the last couple of hours."
"When I played uninterrupted for an hour I didn't experience any of the fret-hand fatigue I often encounter on a this kind of archtop. Plays like a dream, a rich complex sound."
"I never thought that a guitar would elevate my playing. But this guitar has and does. (And it is stunningly beautiful!) I cannot recommend it highly enough."
"The Conti Entrada is a great guitar I will enjoy for many years! Arrived by FedEx, it was packed well and played great straight out of the box. Couldn't ask for more."
"The jazz tone I tried unsuccessfully to coax out of my GS came naturally from the Entrada. My fingers move over the fingerboard with greater ease then before."
"Received congratulations as if I had just given birth as I unboxed it, everyone was impressed. I'm thoroughly enjoying the guitar and it is now my main instrument. "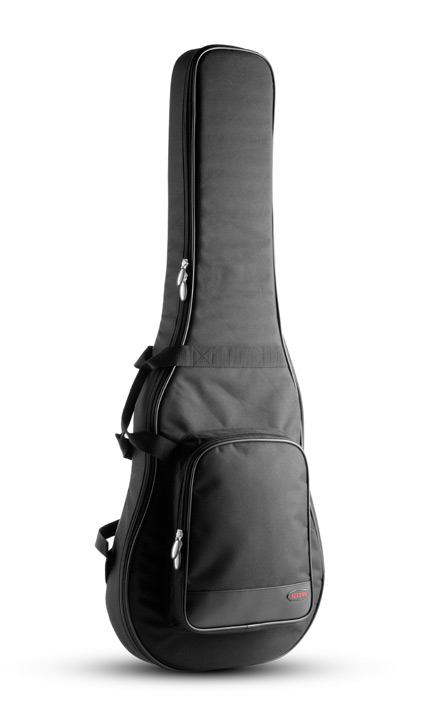 An $80 value, this gig bag offers the perfect blend of lightweight utility and professional-level protection.
Interior Dimensions:  42.75″ Long, Upper Bout: 12″, Lower Bout: 16.25″, Depth: 3.5″
Exterior Dimensions: 45.5 x 17.75 x 6″
1″ foam core (25mm HardCell high-density closed-cell foam coupled w/ 4mm open-cell sponge foam)
600D water-resistant polyester exterior w/ PVC backing
Smooth 70D pill-resistant poly interior w/ protective hardware abrasion guards
Adjustable padded backpack-style straps
Reinforced carry handles, heavy-duty zippers and pulls
Ample zippered front pocket
Weight: 3.3 lbs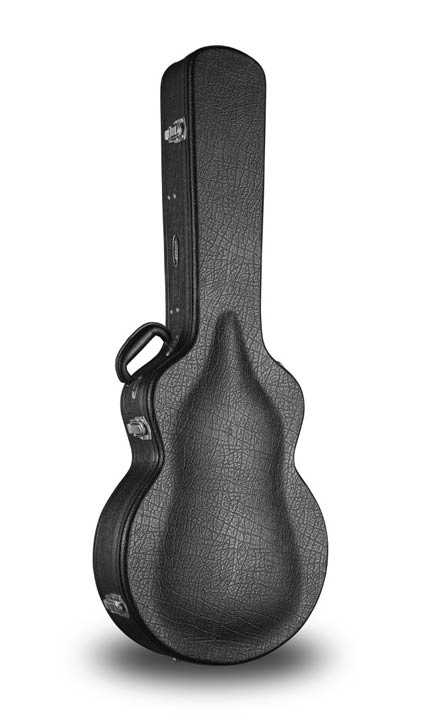 Interior Dimensions: Overall Length: 43.5″ (1105mm);  Upper Bout: 11.5″ (292mm);  Waist: 10.5″ (267mm);  Body Length: 18.75″ (476mm);  Lower Bout: 16″ (406mm);  Depth: 4″ (102mm)
Reinforced 5ply shell
Vinyl exterior with fully bound seams
Soft, plush interior over a protective layer of protective foam padding
Comfortable handle – chromed metal hinges, latches and hardware
Internal pick box with neck-suppor padding
External Dim: 46 x 18.5 x 6in. (1168 x 216 x 152mm)
Approximate Weight: 9.9 lbs
Please Note:
If the Entrada were available through the traditional distributor/dealer network, you could expect to pay 2-3 times the price. By offering these instruments exclusively through our website, the middlemen are removed and you can obtain a great archtop at an unbeatable price.