Be the best dressed guitarist on your next gig.

From a road house to the White House, without a mortgage on your house.
Your dream archtop at any budget.
We don't believe you can find a comparable feature rich guitar at this price anywhere.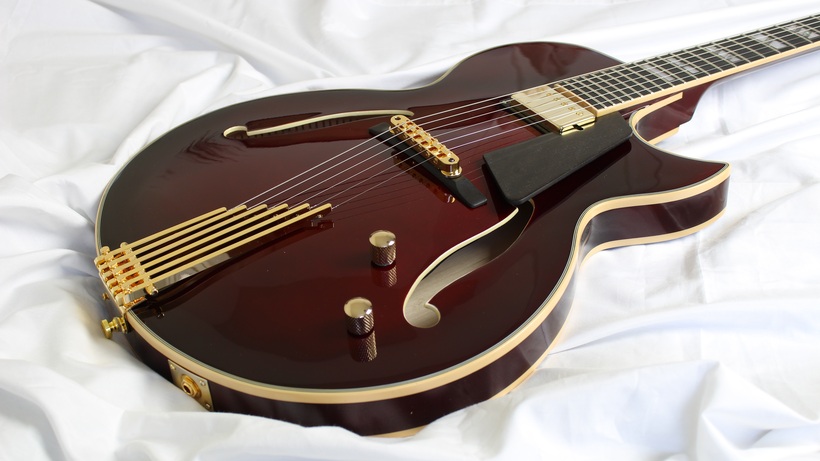 The Entrada
$
1569
(Single Pickup Model)
Laminate Maple Top

Laminate Maple Back & Sides

Gold Imperial Tuners

24 Fret Ebony Fingerboard

M.O.P / Genuine Abalone Inlays

Gotoh TOM or Ebony Bridge

Floating Ebony Bridge Base

Ebony or Gold Finger Tailpiece

Quality Gig Bag (Hardshell +$)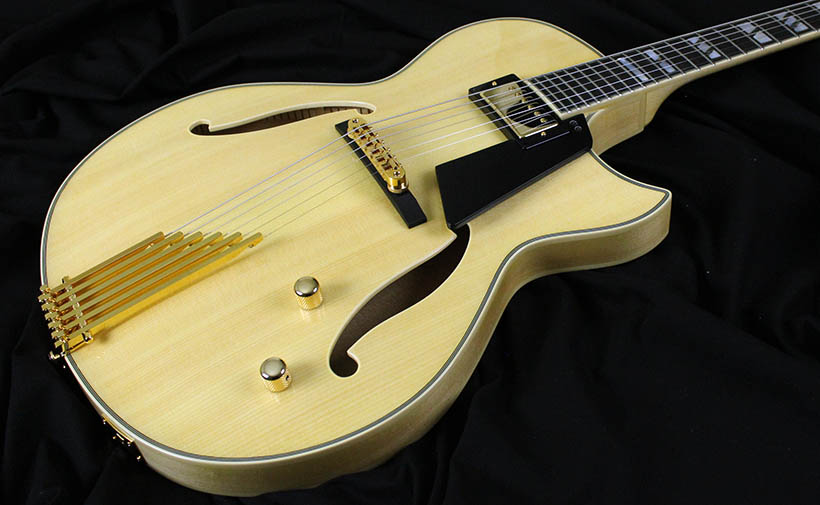 The Heirloom
$
2449
(Single Pickup Model)
Solid Spruce Top

Solid Maple Back & Sides

Gold Imperial Tuners

24 Fret Ebony Fingerboard

M.O.P / Genuine Abalone Inlays

Gotoh TOM or Ebony Bridge

Floating Ebony Bridge Base

Ebony or Gold Finger Tailpiece

Quality Gig Bag (Hardshell +$)

Exclusive Review By
Pro Player/Educator: Vince Lewis
Personalized Pre-Ship Video Intro
As an integral part of our First Class Owner Service, before your guitar is shipped, you will receive our personalized Buyer Assurance Video, wherein Robert Conti plays and introduces you to your new guitar – a truly, memorable and unparalleled service in the guitar industry. See excerpts from actual pre-shipment videos below:
We are able to offer fully featured Conti Guitars at value pricing as they are only available direct from Conti Guitars. If our guitars were offered through the typical distributor/dealer network, the price would assuredly double, and in some cases actually triple. However, even at our value pricing, the cost may sometimes exceed one's budget. To that end, we make efforts to discount guitars when certain events allow us to do so. On a random timetable, new guitars are played by Robert or one of his assistants at a variety of events such as:
trade shows,
educational videos, or
selected live performances
Although we exercise great care in handling our instruments, they sometimes incur minor cosmetic surface scratches that are usually imperceptible after buffing. As a matter of common business ethics: 
Although demo instruments are essentially still new, we do not return those instruments into inventory as "brand new."
Although the subject instruments may have been played for only an hour or two, we always advise every potential purchaser of any scratches, nicks, etc.
Making our demo instruments available at a substantial price reduction (when we are able to do so) provides folks an opportunity to acquire a high quality instrument at great savings. These instruments receive the same quality control as new instruments, including a  full pre-shipping inspection and set-up, and our signature personalized "owner introduction video" wherein Robert Conti actually plays and introduces you to your new instrument!
Black Entrada - $1,019
This instrument has been sold.
Set Up To Stringent Specifications
When you're Robert Conti, you play a lot of notes.
When you play a lot of notes, you need a neck that plays like butter.
When you  need a neck that plays like butter, you better have a good luthier.
Prior to shipment, every Conti Guitar is scrutinized by a highly qualified luthier with 30+ years of experience. Each instrument is set up to Robert's specifications and fully inspected.
Only The Most Desirable Features
We introduced the first generation Conti Guitar to be the most affordable, feature rich archtop on the market. However, we certainly understand that the solid wood model may still be out of reach for some aspiring jazz guitar students.  As such, the laminate model is by no means stripped down.  See info below for what we believe are the most important features that you'll find on both the solid and laminate models.
(Mouse over images for info)
Ebony Everything
Not only richer looking, but feels great under the fingers allowing you to execute those burnin' Conti lines with precision and ease. Pickguard, Fretboard, Bridge, Tailpiece - all standard Ebony.
MOP & Real Abalone
The colorful luster of the inlays contrast beautifully with the bold ebony fingerboard. Don't settle for a plain, unattractive guitar when you can have a well dressed instrument sure to impress any audience.
Output Jack Placement
Logically positioned output jack 4" from end pin. This saves your pants from fraying when you're playing in a sitting position.
Shallow Florentine Cutaway
What good are 24 frets if the cutaway hinders you from accessing the entire fingerboard? If you've seen Conti perform, you know he makes use of each and every one of those 24 frets - so now can you.
Low Action Setup
You don't want your axe fighting you with every note you play. The long slim neck on all Conti Guitars allows the lowest action possible, which creates that "plays like butter" feel for hours of playing enjoyment without fatigue.
Preferred Gauge Strings
Having played jazz guitar for 5+ decades, you can imagine that Conti has tried every string that exists. While strings are a personal preference, we believe you'll enjoy the balance achieved by his pre-configured gauges.
If you can find a

better looking

more affordable

easier playing

more equipped
archtop, buy it.
Through the course of many prior years, numerous guitarists have solicited my advice on how to find a great sounding jazz guitar with excellent playability at an affordable price.  I've observed many aspiring jazz guitarists who have unknowingly limited their potential by playing an inferior instrument, almost always due to the constraint of high prices. On the other hand, I have also seen dramatic improvements in skill levels even when entry level guitarists begin using a quality instrument that is set-up to play easily. In 2006. . .
The Conti Archtop Jazz Guitar is the result of 55 years of on the bandstand playing experience. 
Yes, We Really Mean 55 Years
(and still going strong!)