Conti Guitar Worldwide Owner Comments
Please enjoy this sampling of photos and commentaries from owners of Conti Guitars around the world. 
Note: Items dated before October 2016 refer to the 1st generation Conti Guitar.
Now Accepting Deposits
As indicated by our owner commentaries, the Conti Guitar has become an in demand favorite for numerous worldwide owners. Since the inception of the Covid pandemic and related problems, our inventory is depleted within days of our receipt. If you've had your eye on an Entrada, to ensure your order fulfillment, please consider placing a deposit. Your deposit will place your your name in the order received queue. You will receive notification, before any public announcement of new inventory is made to the general public. More Information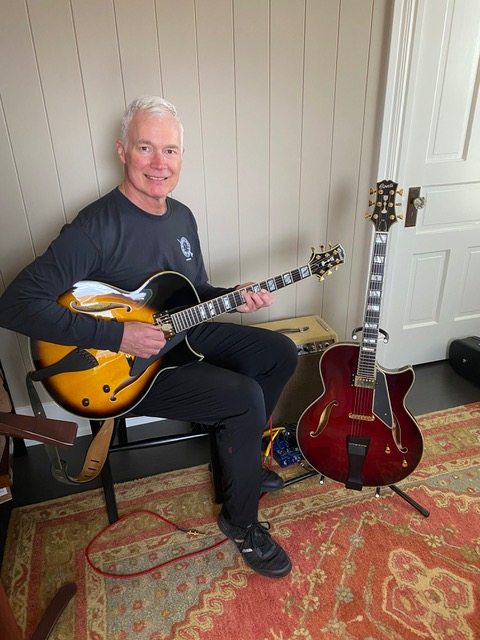 "Attached is a photo of me with my new Sunburst Heirloom and my original Ruby Red Equity. Besides the Equity, I have used many of the Conti teaching materials over these last few years, ever since I first encountered Bob in "Just Jazz Guitar" magazine. I appreciate the help and advice as I decided whether to buy the Heirloom. It arrived at my Oregon home in just two days. It was well packed and needed nothing but tuning to be play ready out of the case. The guitar is perfect. The finish is beautiful. The hardware is clearly high quality. I am impressed by the sound quality even when it is not plugged in. I am really pleased by the slightly smaller lower bout; it relieves some strain on my shoulder. Finally, the video of Bob playing my guitar and telling me about it just before it shipped was wonderful.
Read More »